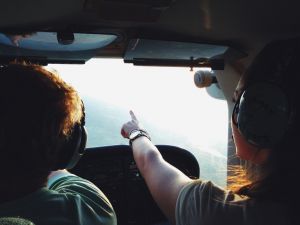 One of the most important, yet difficult decisions to make in life is one career path. To some this decision is easy whereas to others it is tough. One of such easy but demanding decision is that of being a pilot. There are many factors to consider especially that of the type of pilot training school. The truth is; most prospective pilot students are faced with demanding any decision. In that process they ask following questions:
How do I choose the right type of pilot training school?How long will it take me to become a pilot?Can I become a pilot as well as have a degree certificate?
These questions are simple in nature, yet thought-provoking. Although difficult to answer, they become easy with the help of well-structured and defined career goals. This article will provide necessary information on the types of training schools. It will assist in the choice of the right training school to attend. Here are our guidelines.
Choosing the right type of pilot training schools
There are many types of training schools accessible and available to prospective students. Here are the three main training options to choose from.
1) Local Airport Fixed Base Operators (FBOs) training schools
FBOs within our localities provide pilot training on the pace of prospective students. So prospective students can enroll if they meet the admission criteria. Thus depending on the career goals and needs, anyone can enroll.
FBO training schools offer many advantages and disadvantages. One of such advantage is the privilege to fly in a small and local airport. But the presence of little regulations is a challenge for pilots trained in FBO schools. There is the constant change of instructors and interruptions in training schedule. Over time, this affects your training resulting to delay in course completion. On the long run, it interrupts your career goals and needs.
FBO training schools are less expensive in comparison with the other type of schools. So with the available funds and defined career goals, enrollment becomes easy.
2) College/University Training Schools
Today, colleges/universities offer a combination of pilot training and college/university degree. Although such training is one of the best, they are expensive and are longer to complete. On the average, it takes about four years to complete your training with a college degree.
Accreditation is an issue for this type of training school. So you must make all relevant inquiries on accreditation before enrolment. Graduates from this type of school are considered highly trainable. They have the ability to learn and succeed in very challenging situations. If you desire to be a pilot and at the same time own a college degree, enroll in this type of school. But consider the expenses, career goals and admission criteria before making a decision.
3) Training Schools for Fast-Track Airline Programs
These training schools are the fastest and least expensive routes for prospective pilots. Programs like this help student to gain the required experience for a pilot over a short period. Fast-track programs involve concentrated day-to-day training and classes. Training in this school is intensive.
The aim is to help those with zero flight hours gain the necessary aeronautical ratings. Although training is fast-paced in nature, they are safe and does not jeopardize anyone.
You can complete fast-track programs within a year. This is dependent on past experiences, level of understanding and type of program. But, it takes a long time to gain the necessary ratings and hours to become a commercial pilot. Although fully accredited, it is best to make personal inquiries on accreditation status.
So if you desire to become a pilot over a short period, it is necessary to enroll in fast-track programs.
Conclusion
To become a pilot is easy with the right information. Consider cost, availability of instructors and type of aircraft. Consider the success rates of student and graduate before enrolling in any school. It is important to consider the conditions for admission in each type of school. So with the right information, the decision-making processes become easy. But you must seek the help of experienced professionals too.
Pilot Training Schools